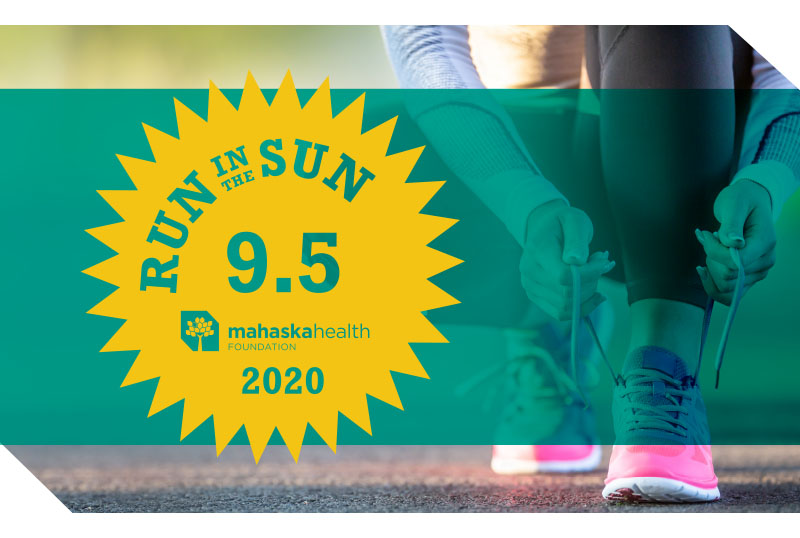 This year may look a little different for most people, but that doesn't mean that we still can't have fun and run!  Join us for our first ever Virtual Run in the Sun 9.5. Let's celebrate 9.5 years of our Mahaska Health Foundation 5K as we raise money to support Hospice Serenity House.  Enjoy doing the 5K from the comfort of your home or a local outdoor trail.  So, whether you run on a treadmill, jog around the neighborhood, or walk around the block, get out there and join us for the Virtual Run in the Sun 9.5.
We invite you to join our social distance 5K to help promote social distancing, as well as continuing our effort to help Mahaska Health Foundation and the Hospice Serenity House.  Many of us are doing our best to stay home, keep a proper social distance and do what we can to keep ourselves, and so many others, safe and health.  So, lace up those shoes, keep six feet away from everyone else and get racing! Since it's a virtual race you will be able to avoid the crowds but still participate in the event with other people around the community.
When: Complete your race between Saturday, July 25th and Sunday, August 2nd, 2020
Where: You choose the course and you time yourself (you'll report your finishing time to us)
Why: To continue the support of Hospice Serenity House and Mahaska Health Foundation
Cost to participate is $20.  Click here to register online, order your Virtual Run in the Sun 9.5 limited edition t-shirt, and receive instructions on how to record your time.
If you have any questions, feel free to reach out to Foundation Director, Ann Frost at 641.672.3361 or email afrost@mahaskahealth.org.  Check for updates and inspiring stories on the Facebook page.